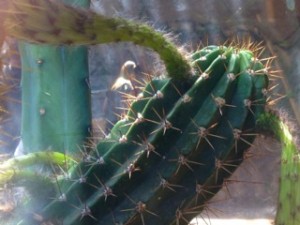 Why embrace your obstacle? If you're traveling along a road and a huge cactus blocks your path, you wouldn't embrace it, would you? No, you'd walk around it.
Right.
But before you walked around it, something else happened. You noticed it.
If you felt any annoyance or frustration — any emotion at all — about the cactus being in your way, you quickly addressed it; you didn't let it become a big deal that kept you from walking around the cactus in your path. You knew where you wanted to go, you recognized something was in your way, and you overcame it. Easy peasey.
Imagine if you recognized and overcame all your obstacles so efficiently. You could.
Unwrapping the secrets
What's in an obstacle? Everything.
At least everything we need — and long — to understand about ourselves and our lives.
Here's the secret few know about obstacles: your deepest treasure hides behind what you label "obstacle." Yet instead of being happy when you stumble on a piece of your treasure, instead of having that Eureka! moment and rejoicing, you tend to feel frustrated.
Here's another secret: if you're having trouble overcoming an obstacle in your life, there's an inner obstacle you haven't recognized. Yet. You could.
The obstacle to the obstacle is whatever emotion you've wrapped around the fact that something's in your way. Feelings such as frustration (as if everything you want should be handed to you?) or feeling like a failure (can you be a failure if you haven't tried?) or feeling incompetent (yes, you might have to learn something before you can overcome this obstacle).
Unlocking your obstacle
Do you wrap the experience of something blocking your path in a lot of negative self talk, as if something being in your way is inherently wrong? As if life shouldn't require you to strive and be creative and problem-solve and express yourself?
What's your threshold for frustration? When frustrated, do you feel hopeless and helpless, or do you pause to breathe through it, and can keep going?
Making right effort
The Reiki Precepts help you reframe your inner conversation in a way that inspires gratitude and motivation where you might be mired in frustration. The precepts begin with:
Today only
Do not worry
Do not anger
Today only
The essence of the Reiki Precepts is contained in the opening: today only. Right now.
Today only, right now, pause to be present with your obstacle — and your emotions — instead of cursing the impediment or trying to push it aside. In the midst of your frustration, place your hands for Reiki self practice and see what happens.
Instead of giving up, worrying you can't succeed, or getting angry that it's not easier, simply place your hands for self practice while you sit with your frustration and the inner obstacles it's hiding.
What happens? Does the frustration release? Does any insight peak out from behind your frustration? Do you spot a bit of self judgment encouraging you to put the brakes on instead of moving mindfully, and heartfully, forward? Do you feel an opening?
Your obstacle is an invitation
An obstacle is an invitation to go deeper, to discover something you didn't know before.
Absorb that new perspective and you'll make better, more informed choices for yourself. If you're willing to grow every time you experience a hindrance, you'll gain greater freedom and happiness instead of letting frustration erode your well-being.
Each obstacle — every single one — is a gateway to freedom and happiness, if you welcome it as an opportunity to transform your understanding.
We all have wild, unrelenting happiness within us. You have what you need to choose to live from your happiness. What's stopping you right now? What's today's obstacle?
_______________
Not getting the response you want when you talk about Reiki? Let's change that. Look at the Communicating Reiki category on this blog, or the 4-Step Balance System for Communicating Reiki recorded training.
Let's stay in touch! Please sign up for my email list. I promise not to share it with anyone.