As told to Pamela Miles by Carole Wilbourn, a pioneer of cat therapy, whose practice helping cats and the people who love them is based in New York City.
Reiki for Cats and Cat People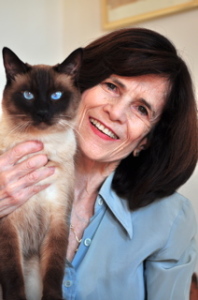 Eighteen years old, with diabetes, borderline renal failure and arthritic hind legs, Winni had his paws full. Connie, his guardian, also felt emotionally and physically drained, and scheduled a home visit so I could give them both a lift.
First I gave Connie some behavioral tips that would help her maintain their well-being after I left. Then I began a modified Reiki chair treatment.
As soon as I placed my hands on Connie's head, Winni wobbled onto her lap, purring steadily. Connie was delighted. "Winni wants to be part of the action, and my Winni has discerning taste," said Connie.
A cat's actions reflect a cat's feelings. That's obvious.
But I've been a cat therapist since 1970, and working with thousands of feline-guardian duos has shown me what's not so obvious: how often a cat's feelings and behavior express the angst of the guardian. You can call it Whole Cat Therapy if you want, but it became clear to be that in order to help a cat, I needed to help the guardian as well.
Learning to practice Reiki in May 2009 made that so much easier to do, and my Reiki hands have become a featured — and favorite — part of my service. I also nurture myself with daily Reiki self-treatment, and I've come to appreciate that my daily self-treatment is part of what I bring to my human and feline clients.
I recently treated cats at a fund-raising event. One was recovering from pelvic surgery for a fracture. An attendee who watched me give Reiki treatment commented, "What a relieved expression on that cat's face as you treated her. We watched her face soften as you placed your hands on her body."
Another attendee noticed the guardian's shoulders relax and his breath deepen during the treatment — the one I gave his cat! You should have seen how well he responded when I placed my hands on him.
_______________
Looking for more? Join my email list here!