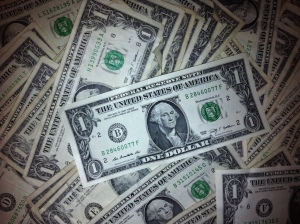 "When can I start charging for Reiki treatment?"
If I had a dollar for every time I've been asked that…in today's economy, I wouldn't be rich, but I'd have a big pile of dollar bills!
Some people ask how soon they can hang out a shingle when inquiring about First degree classes.
I try to slow them down, asking, "How can you know you want to be a Reiki professional until you've practiced Reiki for a while?"
And I explain that the First degree Reiki class is not a professional training, but it is the necessary first step for everyone, the class in which you learn to practice self-treatment, and that the next step is to actually practice.
Daily.
There is much more to professional practice than meets the eye of someone looking for a quick career change. This is the first in a series discussing the transition to professional practice. Click here to receive the continuing series in your inbox each Saturday.
How long did you practice Reiki before charging for your services? Please click here to leave a comment.
___________________
Understanding Reiki practice in the context of conventional medicine and traditional healing will deepen your respect for your practice, strengthen your confidence, and inform your health choices, whether or not you have any desire to practice Reiki in health care. Watch the Intro to Medical Reiki recorded webinar at your convenience. Click here for more information.
Sign up for the emailings list here!
RELATED READING:
First Do No Harm
Are You a Reiki Healing Martyr?